Create Unique Style Statement With Trendy Tiny Spark Tees
Explore your true style and make a statement with graphic tees.
There's nothing quite like the familiar feel of your favorite tee on days when you want to be comfortable. Named the unofficial official outfit of 2020, oversized graphic tees have been paired best with sweatpants, shorts, leggings, jeans and have become an integral part of future fashion. When working from home or running errands, it is understood that you want to look at least a little put-together, and this simple wardrobe classic outfit is ideal street fashion and can look laid-back and casually elegant when dressed right. The best part is that any baggy fits in your closet can be styled with the classic pairing of jeans and a tee.
Have a look at our urban streetwear lookbook blog for more on our stylish unisex tees:
1. Positive Energy T-shirt
A personal favorite of ours, the Positive Energy T-shirt is made of cotton fabric that is supremely soft and comfy. It is a sign that depicts the tedious periods that have ended. The solid-colored t-shirt comes in various vibrant hues, including black, bright blue, white, and yellow, which makes it perfect for all seasons. The logo – 'Positive Energy' is printed in a multicolor font that provides just the right amount of cheer—thinking of how you could style this t-shirt? We've got you covered; you can tuck this t-shirt into a flirty miniskirt for a simple summer look. Pair it with a small backpack and keep your accessories simple by adding a couple of chunky bracelets to add depth to your outfit.
2. Summer Scribble Cotton T-shirt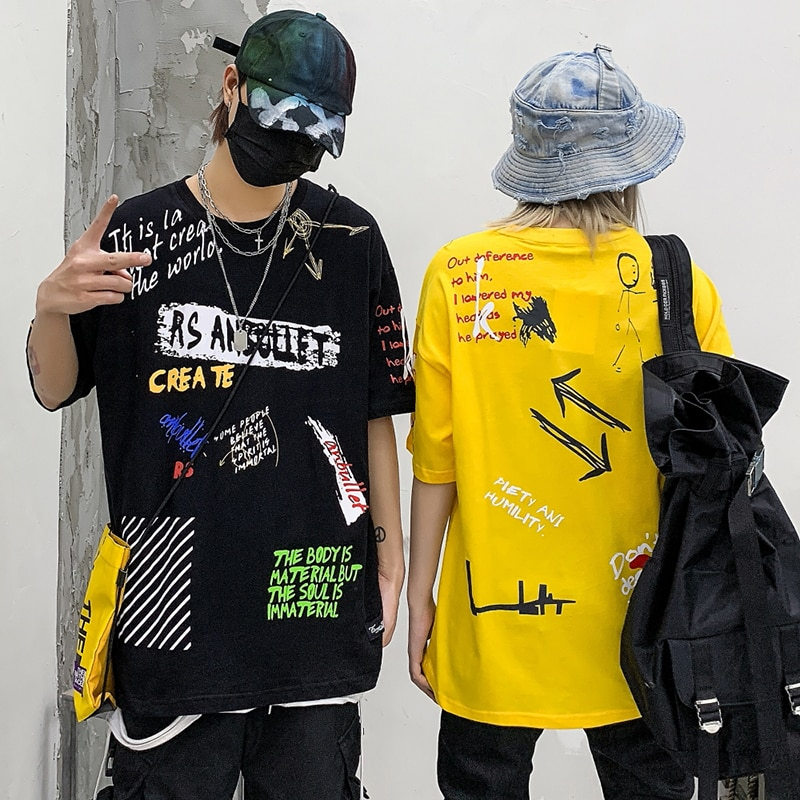 The Summer Scribble Cotton T-shirt is ideal for a relaxed day out. Try layering an oversized graphic tee over a slip dress the next time you're out for a happy hour or a night out with the girls. The contrast is surprising, but it's also right on-trend. The cotton fabric is breathable and lets the skin breathe, reducing and eliminating the risk of rashes. The random text design with various fonts adds a certain appeal that can elevate even the most basic attire. The tee is available in black and yellow colors.
3. Redemption Cotton T-shirt
Tiny Spark Shop will have you swooning over even the most basic wardrobe pieces, and we all need that kind of energy. The Redemption Cotton T-shirt is a soft-colored t-shirt with golden hue designs that gives it a stylish and edgy look, allowing you to stay comfortable while exercising by preventing moisture from building up between your skin and the clothing. This t-shirt is perfect if you're going for a laid-back and grunge vibe. Wear some combat boots, a denim jacket, and distressed denim jeans because let's be honest, denim jackets go with everything, so it's no surprise that they're ideal for layering over your favorite tee.
4. Hibiscus Happiness Cotton T-shirt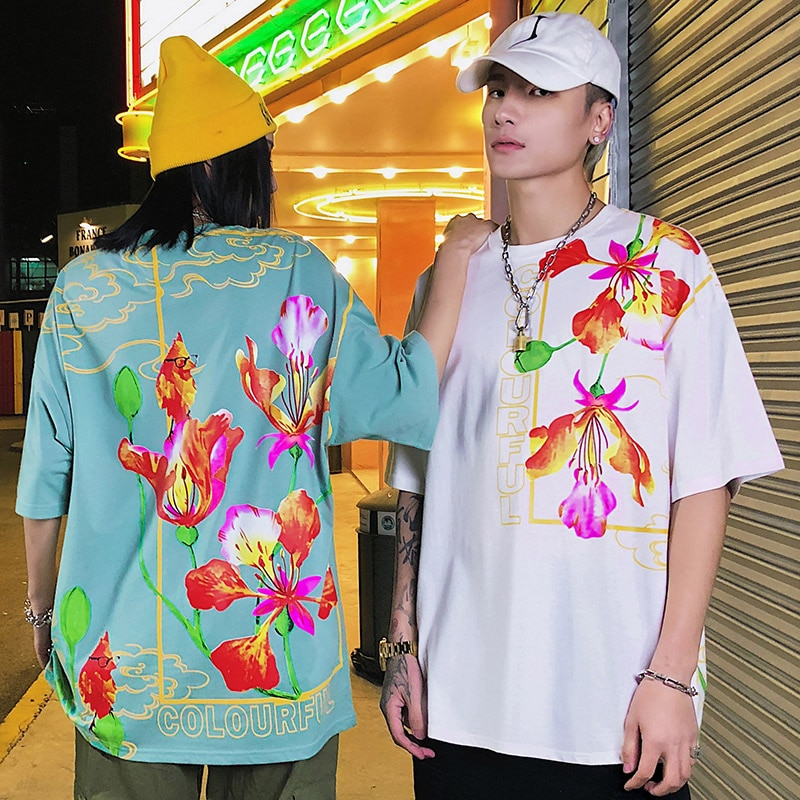 The Hibiscus Happiness T-shirt is a beautiful unisex t-shirt that is a nice change from the usual graphics t-shirts. The combination of birds and the hibiscus flower adds a lovely touch of natural inventiveness to the piece. It is soothing to the eyes due to the delicate pastel colors used. It is made of cotton, a natural textile with very few chemicals, unlike synthetic fibers like polyester and acrylic, which allows you to wear the t-shirt for longer hours in the day. If you work in a casual business environment, you can wear an oversized t-shirt as long as the image, words, and logos are not offensive. Wide-leg high-waisted jeans and a graphic tee with heeled ankle boots look effortlessly elegant and ensure that your trendy ensemble is 100% appropriate for the office. You can also add a bulky cardigan or boyfriend blazer to complete your outfit.
5. Flying Cranes And Sun Cotton T-shirt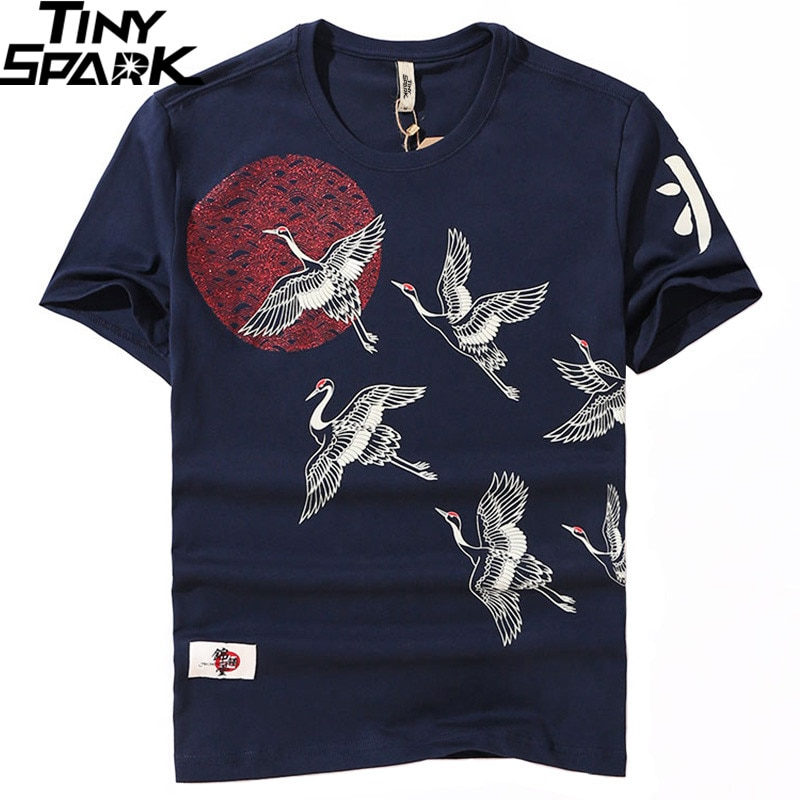 The t-shirt has a navy-blue background that looks terrific with the white cranes and red flaming sun, which incorporates the easily missed and underappreciated Japanese fashion. An absolute delight, the Flying Cranes And Sun Cotton T-shirt can be worn with a pair of leggings to create a simple last-minute style for a leisurely day. The wacky design can also be accentuated with a couple of clean white sneakers that will bring the entire outfit all together.
6. Destroy The Patriarchy T-shirt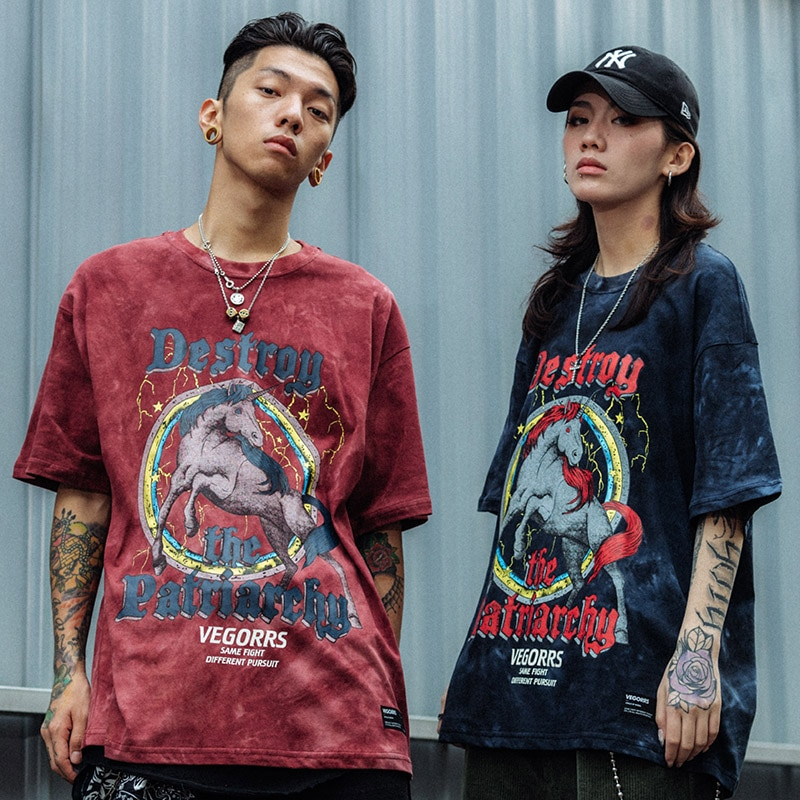 If you enjoy wearing soft, cuddly clothing? Then the Destroy The Patriarchy T-shirt will make you feel the same at home. The quote, the print, and the stitching details are all top-notch, and the dark hues provide the ideal backdrop for a bold, striking motif. Two of the most significant trends for Fall/Winter are knee-high boots and leather blazers. When coupled with gold jewelry, leather textiles give the otherwise simple design a rich touch.
7. Cat Ninja Warrior Cotton T-shirt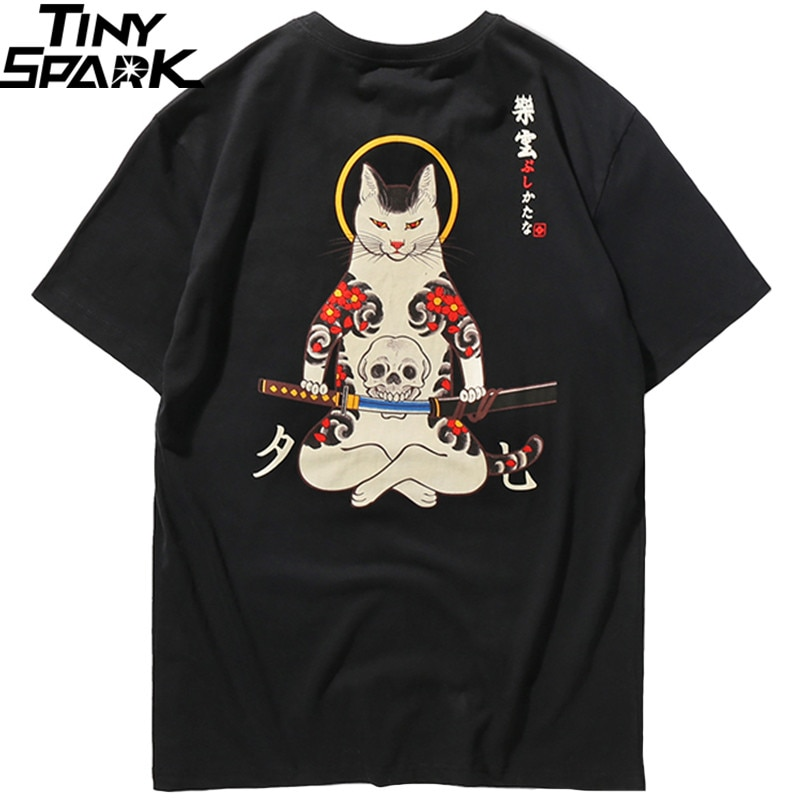 The Cat Ninja Warrior Cotton T-shirt print is inspired by a playful cartoon design with a Japanese vibe. It also includes subtle touches of needlework, skulls, and other embellishments that give it a polished appearance. Complete the look by half-tucking the t-shirt in a pair of dark blue jeans with streetwear shoes, gold hoops, and a sporty baseball hat which can change the entire aesthetic and give you the perfect hip hop look. The fabric of the t-shirt is lovely to wear since it is soft and stretches easily, making it suitable to wear in any season.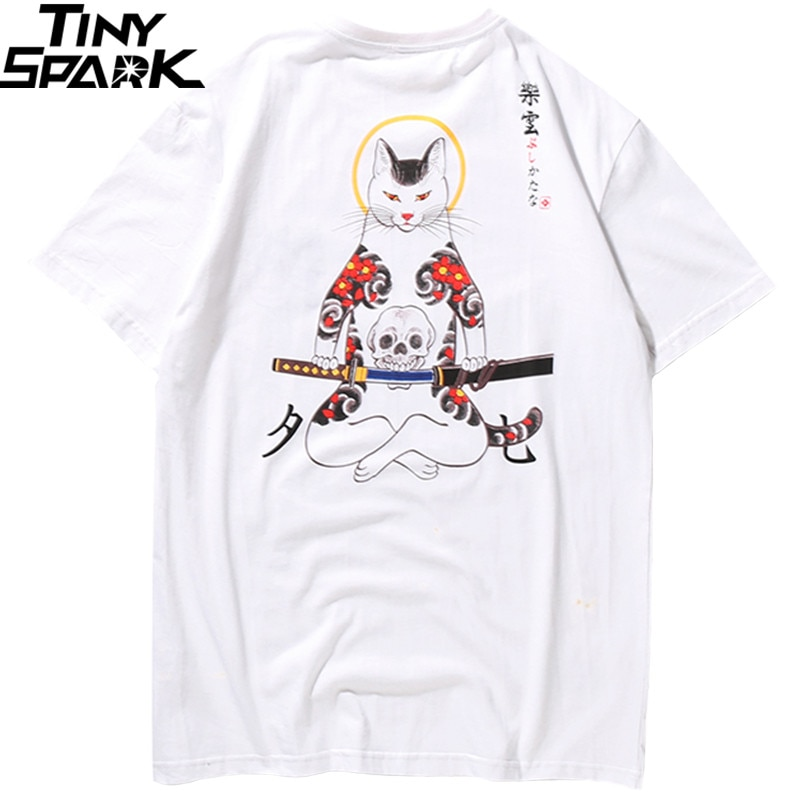 If you're still unsure how to style your oversized fits and are willing to go a little risqué, opt for the no-pants look, which happens to be one of the most popular ways for even celebrities to wear an oversized shirt. Worried about wardrobe mishaps, avoid them by throwing on a pair of cycling shorts or denim cut-offs underneath your pants-less outfits. Tiny Spark Shop has everything you need to put together your dream wardrobe. Check out our Tiny Spark Tees collection here and website for more smart, casual, and cool products.