Tiny Spark Kimonos: The Ultimate Fusion Of Two Cultures
Embody tradition and symbolism with a quintessential Japanese Kimono.
Some of the most popular outerwear silhouettes in streetwear are inspired by historical garment styles. Similarly, this season, kimono-style garments have been breaking through as an outerwear trend. It's simple to see why – kimono jackets are great culture fits that have a timeless charm that is both classic and modern. The cut is airy but fashionable, especially when fashioned of high-end fabrics or embellished with exquisite embroidery and striking patterns. Tiny Spark Shop brings to you insights into Japanese culture, their history, the origins of the lovely Kimono jacket, and how well it's currently mixing with modern streetwear.
The ceremonial robe first appeared in Japan in the 5th century AD and was influenced by Han Chinese attire in its original form. The sleeves were not lengthened, and the obi (belt) was not made broader until the Edo era (1603–1867 AD); since then, the basic shape of both men's and women's kimonos has remained essentially unchanged. More than just a piece of clothing, kimonos are frequently recognized as pieces of art, particularly those made of exquisite fabrics or by one of the many renowned artists who preserve the centuries-old production skills. In their more current, adopted incarnations, Kimono-style clothing provides wearers with an elegant yet wearable alternative to a blazer, jacket, or overcoat.
Take a look at our exclusive unisex look book with affordable kimonos below:
1. Peacock Feather Poly Cotton Kimono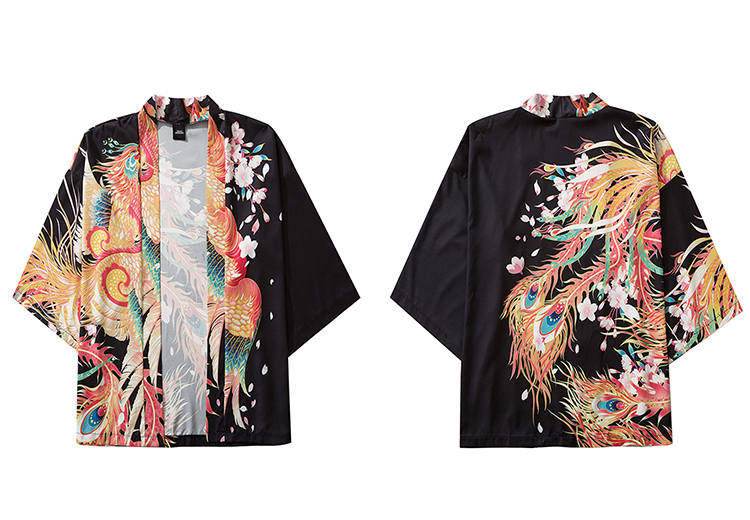 The Peacock Feather Poly-cotton Kimono displays brilliant and colorful peacock feathers on a black base with ethnic cherry blossoms that can elevate the whole look of any outfit. The Kimono is made of polyester, which is a synthetic textile. Although the word synthetic does not sound very appealing, the material is less expensive and offers a number of advantages that cotton does not. You can pair this streetwear kimono with a pair of dark blue jeans, a plain colored tee, and a couple of sneakers.
2. Japanese Cherry Blossom Poly Cotton Kimono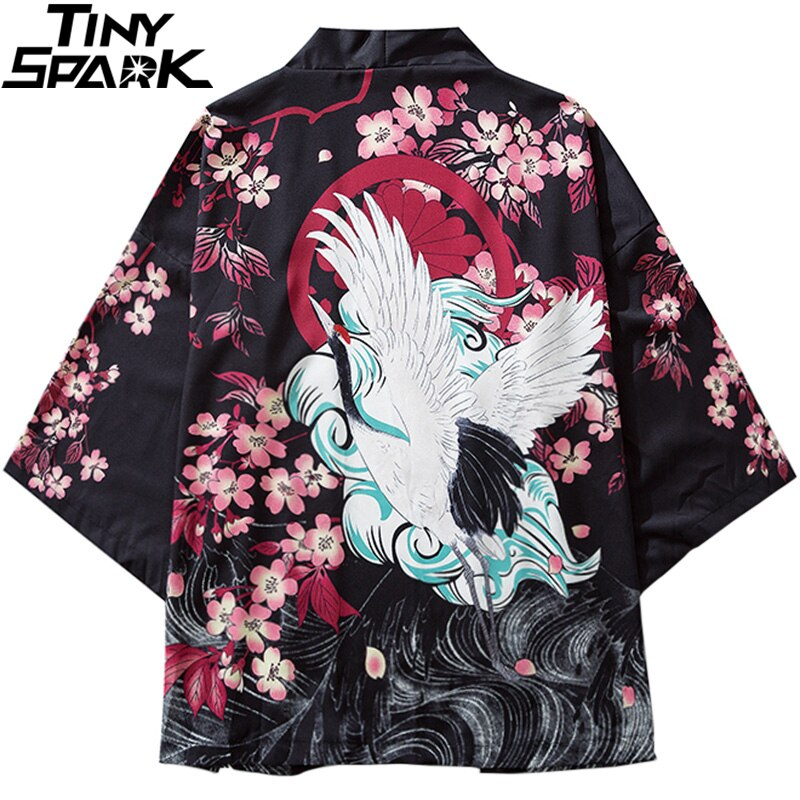 We at Tiny Spark ensure that you only get the best. The Japanese Cherry Blossom Poly Cotton Kimono derives inspiration from Japan. The design features bright pink cherry blossoms surrounding a bird-like figure rising above waves at the center. Cherry blossoms are typically adored by all and are a popular attraction in Japan. The white and black backgrounds highlight the beauty of all the colors and the material used to create this masterpiece.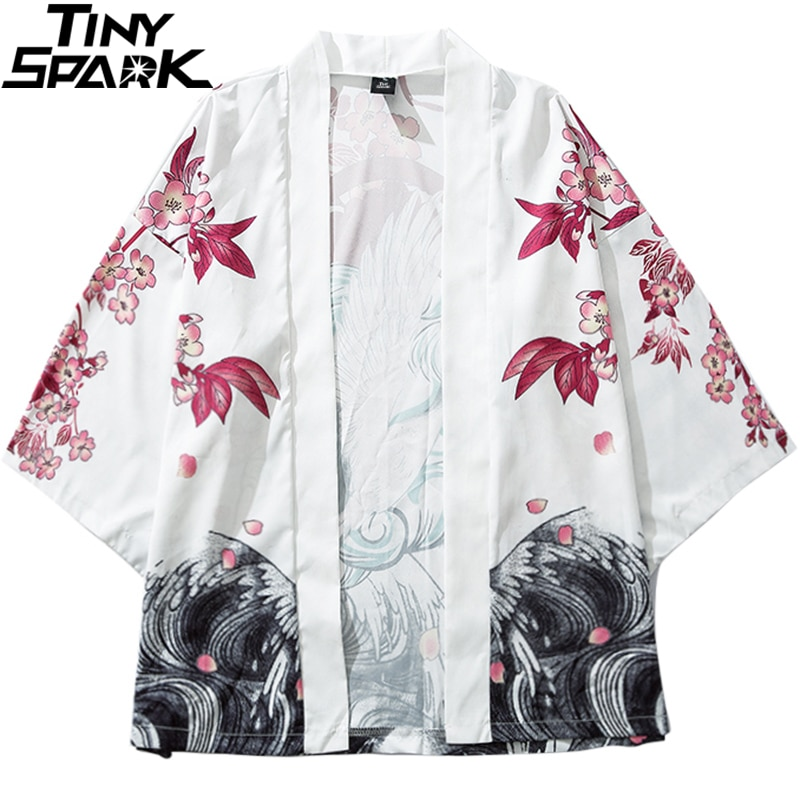 Poly cotton clothes are lightweight, breathable, and tear-resistant, and they can be made into abrasion-resistant materials. This Kimono would look great with a black top, hot pink mini skirt or shorts, and beady bracelets. Also, take a look at our Japanese Cherry Blossom Peace Sign Kimono and Fishy Cherry blossom Kimono.
3. Anime Knight Rider Poly Cotton Kimono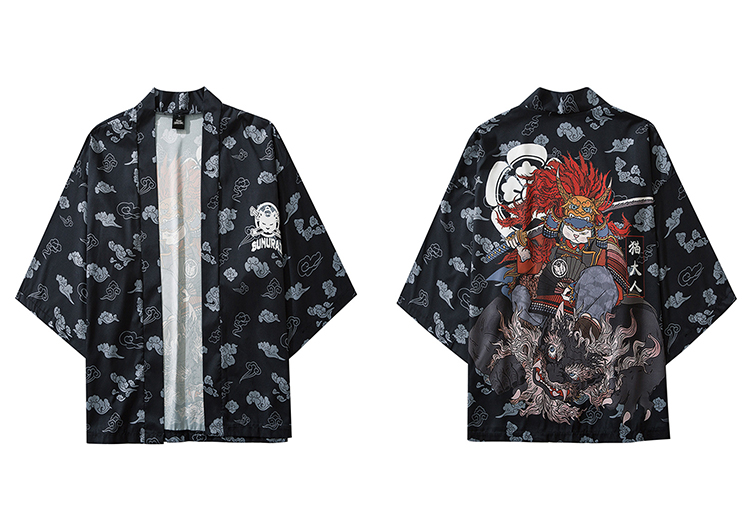 This particular streetwear kimono is an absolute favorite due to its edgy and cool anime print. The Anime Knight Rider Poly-cotton Kimono is perfect for all the anime lovers out there! The anime print is lively, with hues that are on the warm side of the spectrum. Apart from that, there is a samurai logo on the breast of the Kimono and is surrounded by clouds of different shapes that can be worn with a pair of leggings and white sandals that will complete and bring the look together. The poly-cotton blends of the budget kimono allow the product to be less expensive than 100 percent cotton clothes and provide significantly more comfort.
4. Colorful Kingfisher Poly Cotton Kimono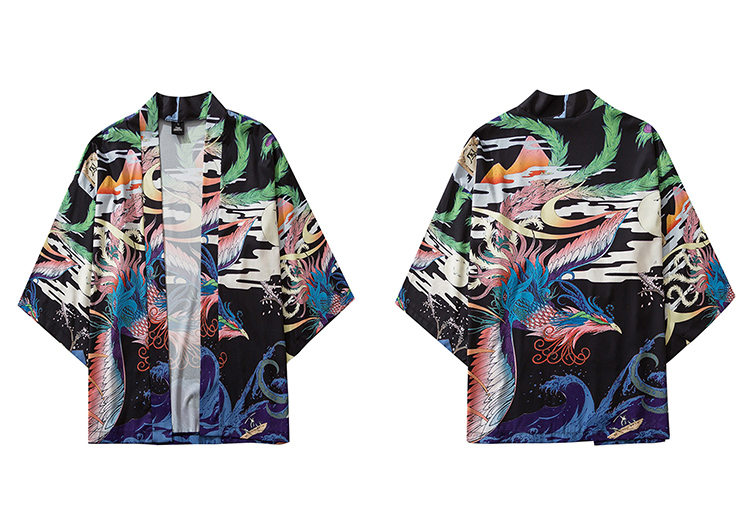 Tiny Spark Shop will have you swooning over even the most essential items, and to be honest, we all need that kind of energy in our lives. The strength of the Kimono comes from the poly-cotton blend of fibers. Featuring mountains, sunsets, a bird, and a rainbow of colorful feathers, our designers have created a panoramic poster to wear and stand out anywhere, on any occasion. The Kimono is a stylish and practical addition to any wardrobe. Sneak a peek here.
5. Fierce Tiger Jungle Poly Cotton Kimono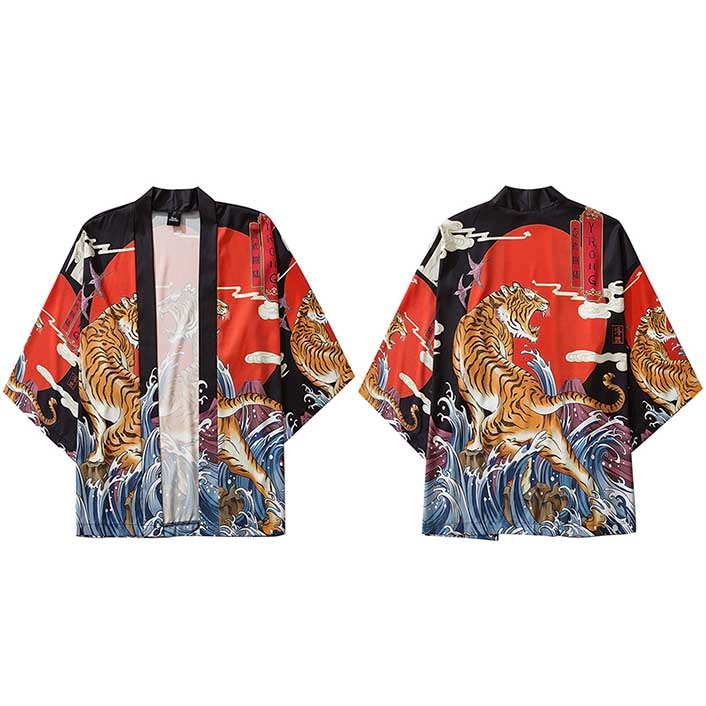 Are you thinking of updating your clothing with something bold? Then you definitely need the Fierce Tiger Jungle Poly-cotton Kimono to put together your dream wardrobe. Tigers are aggressive and assertive animals. This Kimono exudes the power that tigers are known for—the warm colors against the black look like lava on fabric—bright, sparkling, and lovely. Abrasion-resistant materials are frequently made from poly-cotton mixes.
6. Japanese Girl in Flowers Poly Cotton Kimono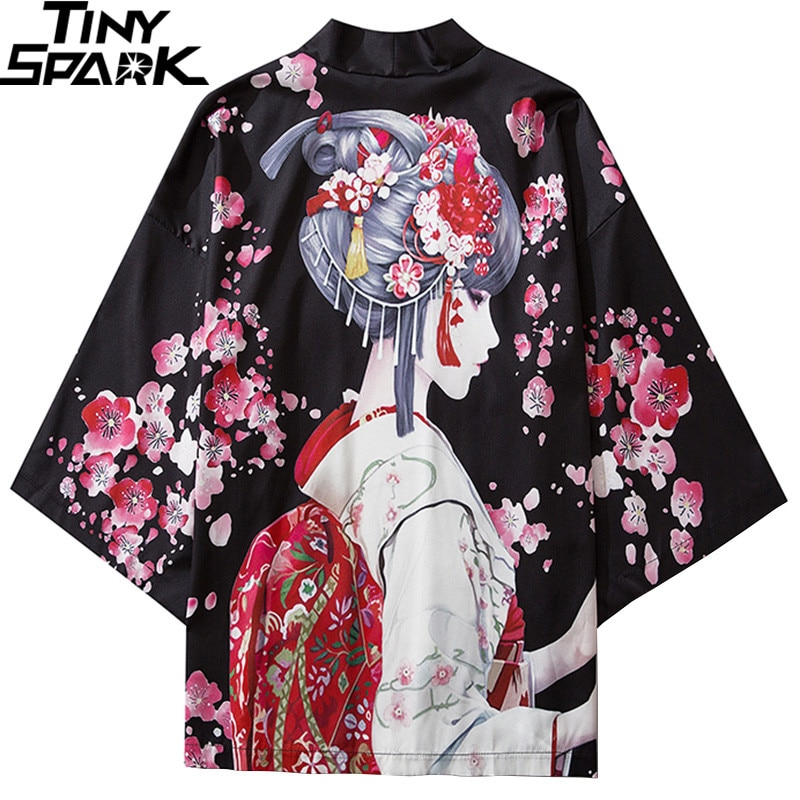 Tiny Spark Shop recognizes your clothing requirements and delivers precisely what you want. The Japanese Girl In Flowers Poly-cotton Kimono is a must-have for anyone, including anime fans. The jacket's overall atmosphere is set by the pink tone of the cherry blossoms. This is ideal for casual gatherings because of its delicate and mild essence. Finally, a cotton and polyester blend allows the clothing article to provide comfort and last longer.
7. Rising Sun Kimono Jacket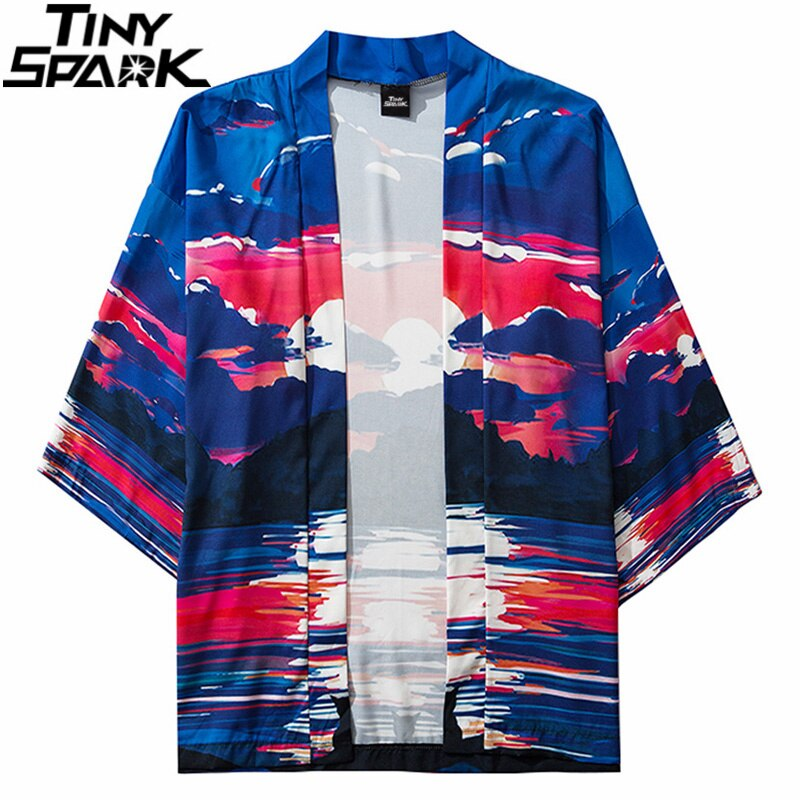 The Rising Sun Kimono Jacket is a Japanese-style jacket that will make you feel like you are straight out of a Japanese setting! The Kimono is modeled after Japan's most prestigious monument, the Rising Sun over the Sea. The combination of warm and cold colors such as blue, pink, orange, black, and white is pleasing to the eye and does not appear gaudy.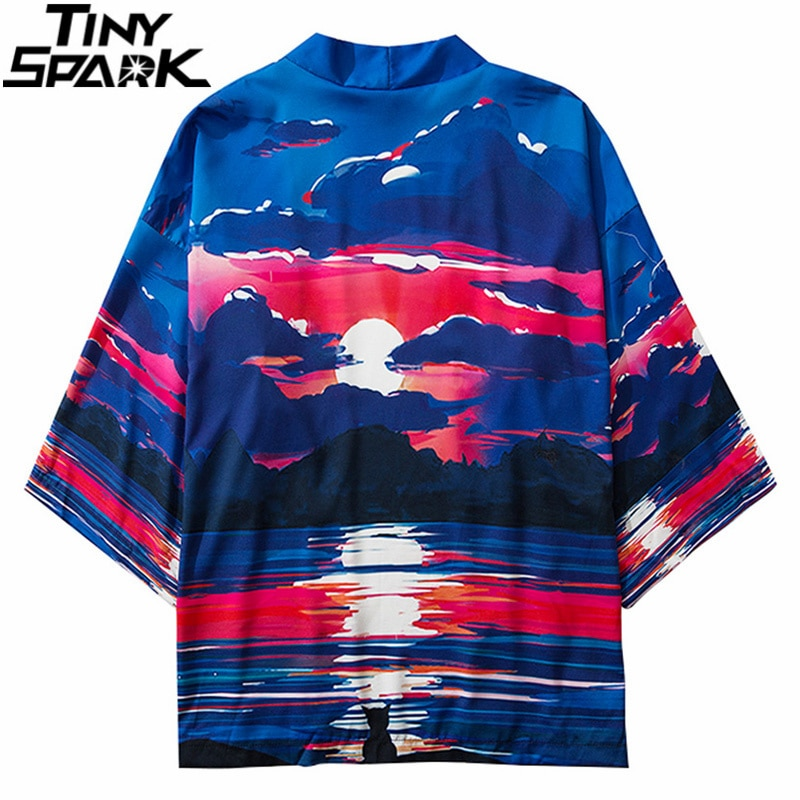 In addition there's also a cute cat sitting and watching the sunset. Any of your outfits will look great with this piece. The soft and flowy fabric has a lovely sheen to it and does not irritate or produce rashes.
8. Japanese Ukiyoe Kimono Jacket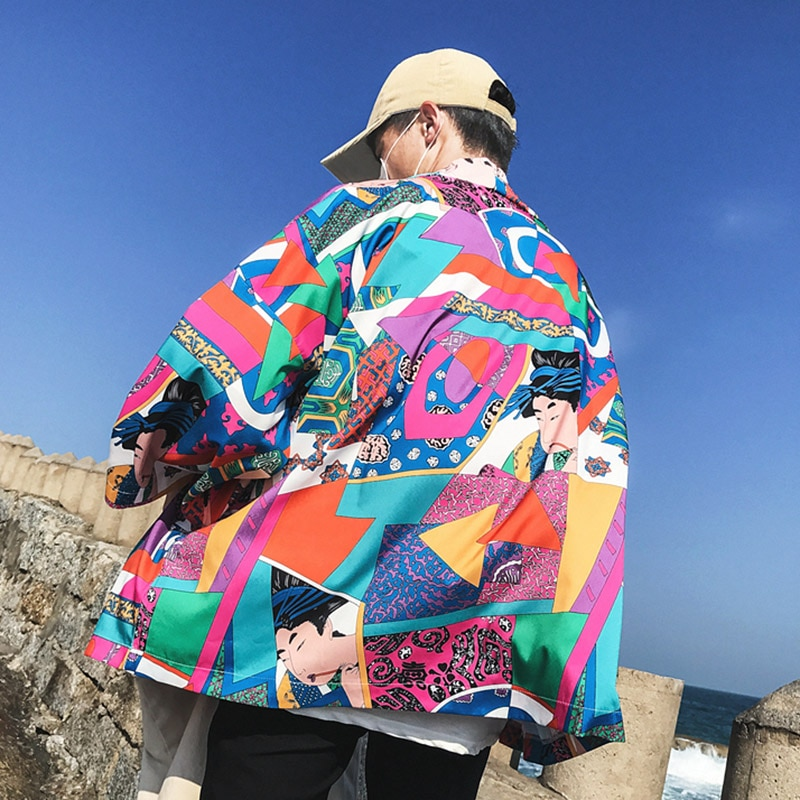 A more fun and vibrant take on Japanese art and influence, The Japanese Ukiyoe Kimono Jacket is the most beautiful print anyone could ever envision. The jacket parades the most colorful geometric shapes that represent Japanese streetwear's future fashion. Comfort and confidence are two words that come to mind when thinking of the poly-cotton blend used to bring this art piece to life. Pair it with an all-black outfit or dress to stand out.
9. Greyscale Dragon Print Poly Cotton Kimono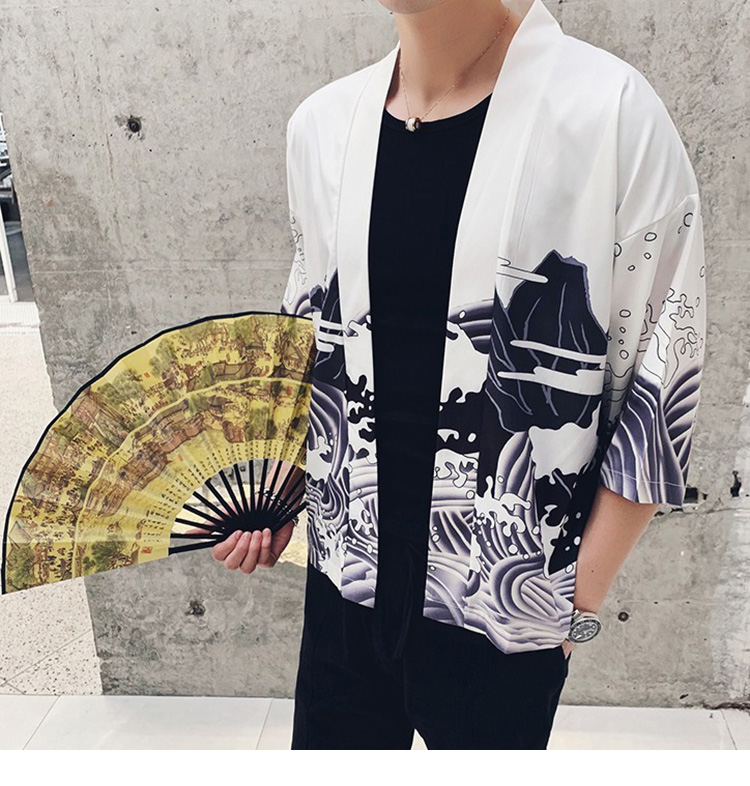 You can never go wrong with a classic black, white, and grey combination. Although it is connected with ancient times, the greyscale color palette is still the best color combination ever and leaves a lot to the wearer's imagination. The unisex print features a dragon that is nothing short of urban Japanese and high fashion premium streetwear that may be worn to dress up any outfit. The wearer of the Greyscale Dragon Print Poly-cotton Kimono can benefit from cotton fabric's better breathability and polyester's tear-resistance quality.
10. White Waves Poly Cotton Kimono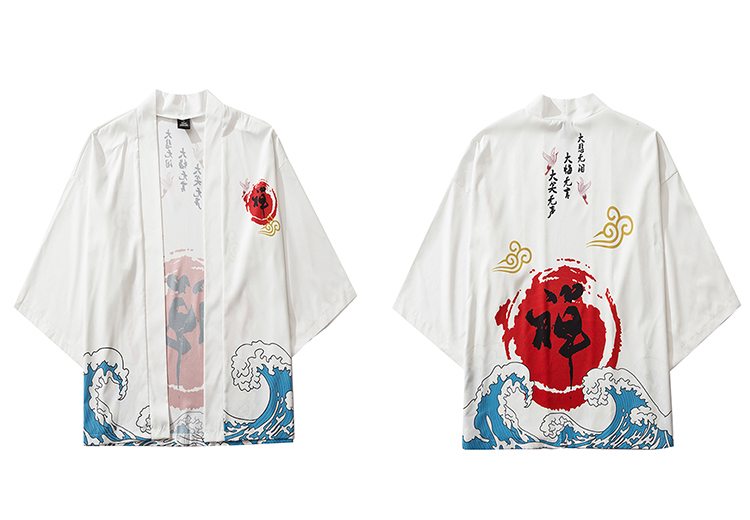 An absolute vintage design with a white background that sets the tone for the burning sun and splashing waves, this poncho shows the relationship between the two just like a match made in heaven. The White Waves Poly Cotton Kimono is regal looking and upgrades even the simplest of outfits such as a black shirt, high waisted jeans, gold heels, and golden hoop earrings.
You can view the rest of our affordable ponchos collection here – Fish Scales And Ocean Wave Japanese Kimono, White Daffodil Poly-cotton Kimono, Burning Devil Smirk Poly-cotton Kimono, Golden Floral Heron Poly-cotton Kimono, Japanese Lone Samurai Jungle Print Kimono, Floral Fish Poly-cotton Kimono. And make sure to visit our website for more products.