7 Best Korean Award Show Looks Of 2021!
Take a bow as we present some of Korea's most glam fashion looks!
If you enjoy K-pop, you're in for a stylish treat. Award shows are one of the most awaited events in the Korean entertainment business. Fans vote for their favorite celebrities, artists win, and stars gather to celebrate the evening. The most excellent part is that we get to see all of the beautiful attires that celebrities wear on the red carpet. The grandeur! The enchantment! What about the gowns? The suit-clad gentlemen! All make the night the most important one of the award season, and the stars put on quite the show for their fans by posing for the cameras in their best costumes.
From BTS's darling Louis Vuitton suits to Tiffany Young's sheer and lacy black gown, the jaw-dropping outfits are causing us fierce fashion FOMO. However, these breath-taking and dreamy appearances also provide a ray of hope for the post-pandemic future.
Here are the top Korean trends and best Korean award show looks of 2021, ranging from all black statement pieces to heavenly sequenced and animal print garb.
1. AESPA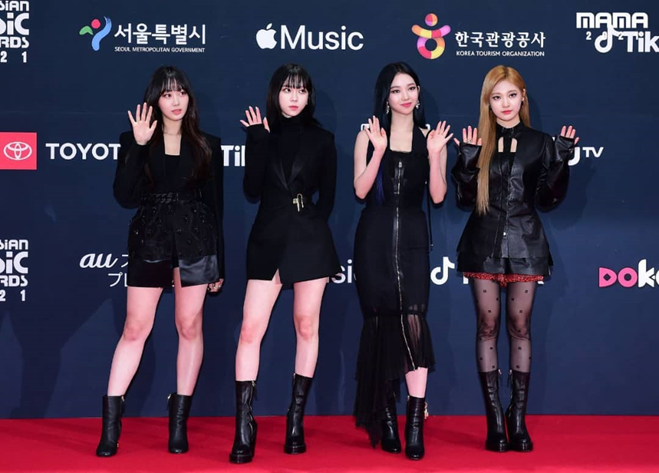 Aespa wore gorgeous all-black ensembles at the MAMA 2021 Red Carpet. First, from the left – Giselle is seen wearing a short black dress with a black patterned blazer and textured belt, along with black leather boots. She completes the look with her signature bangs. Second, from the left – Winter keeps her look simple in a black turtleneck and blazer dress with an artsy buckle and black boots. Aespa's Ningning (second from the right) revealed her bad girl persona in a short leather outfit with sheer polka leggings. She left her mark on the red carpet with heavy eyeliner and light caramel hair! Her dress's bottom frill in red added the perfect pop of color to the ensemble. Karina's (first from the right) visual stood out even more thanks to her clever dress choice that helped show off her body outline giving her a doll-like attractiveness.
2. ASTRO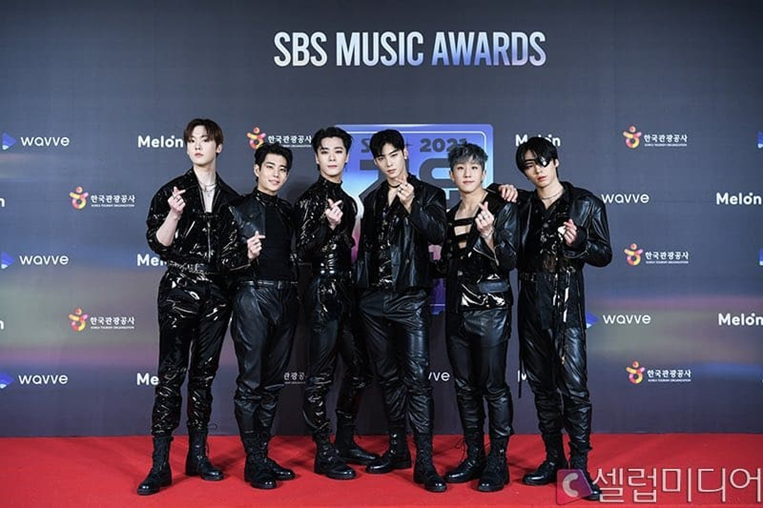 ASTRO comprising MJ, Jinjin, Cha Eun-woo, Moon Bin, Rocky, and Yoon San-ha chose an all-black leather ensemble to rock the red carpet at the SBS Gayo Daejun Music Festival. The renowned K-Pop boy band gathered together to walk down the red carpet at the 2021 Melon Awards in urban streetwear ensembles you'll want in your closet ASAP.
3. BTS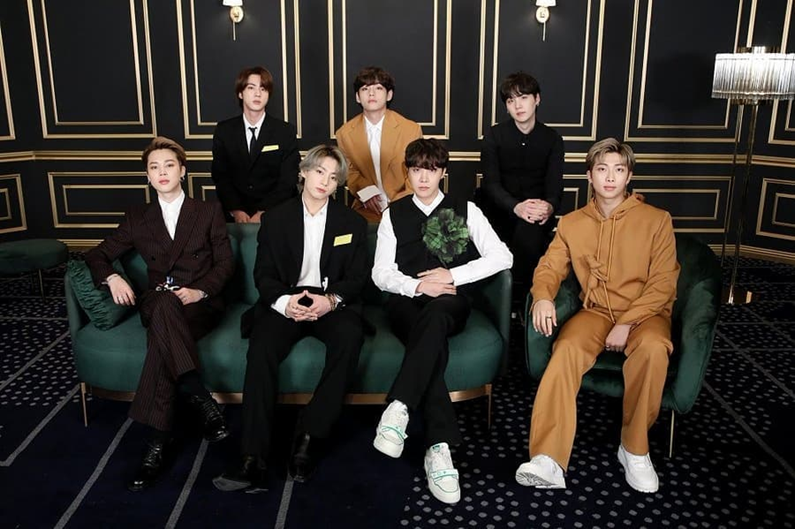 These seven trailblazers would break onto the international stage in a way that no other Korean act had ever done before. They've created their genre with a broad and frequently experimental musical approach despite having hip-hop roots. BTS, as the one-of-a-kind group that they are, stands out even more with their outstanding storytelling and unique themes, as well as their persistent message of positivity and inclusion. BTS totally slayed the red carpet in bespoke Louis Vuitton suits in unique brown and black ensembles that exude class.
4. ENHYPHEN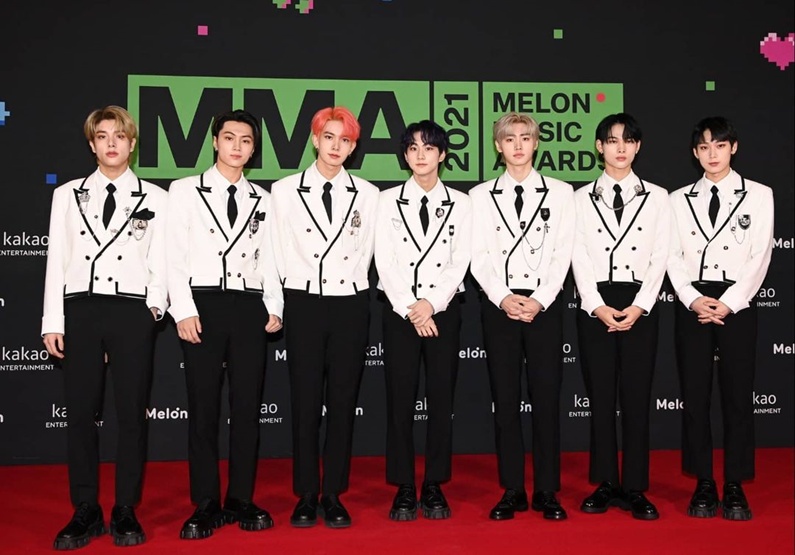 This particular K-pop boy band picked a classic ensemble of white and black accented double-breasted blazers with black pants for the awards ceremony. Representing Korean fashion at its best, Jungwon, Heeseung, Jay, Jake, Sunghoon, Sunoo, and Ni-ki look sophisticated in this simple outfit accented by silver brooches and chains.
5. ITZY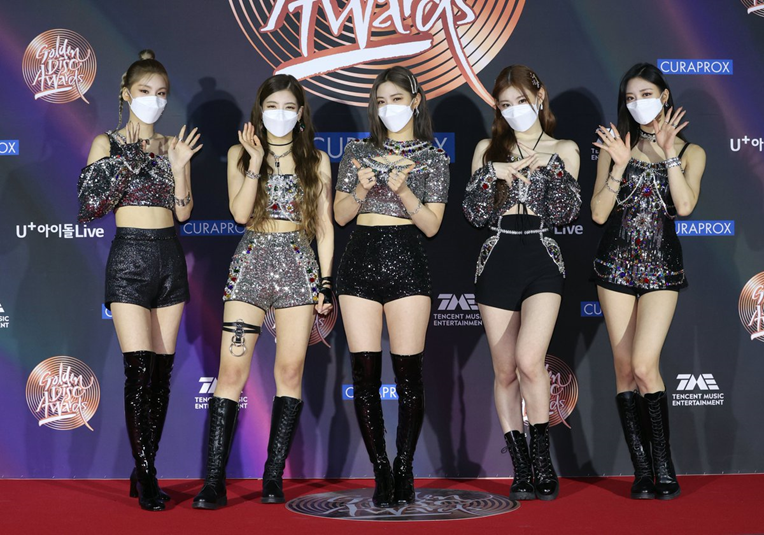 Since their debut, the confident and robust quintet has been establishing themselves as the ultimate female crush. They've always taken the female crush notion to the next level, delivering uplifting messages of self-love, confidence and not letting others define you, in addition to their characteristic powerful sound and flair. And that can be seen through Yeji, Lia, Ryujin, Chaeryeong, and Yuna's outfits for the Golden Disc Awards 2021. Each of them is oozing bling through their outfits, with chunky jewelry, colorful sequined tops, and shorts. To top it off, the girls have paired their outfits with laced leather boots that add an element of swag.
6. MAMAMOO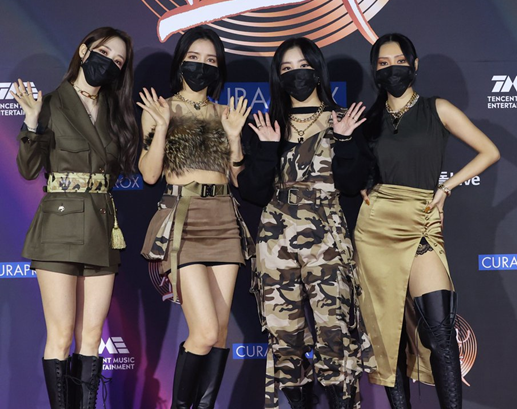 The Mamamoo group of four – Solar, Moonbyul, Wheein, and Hwasa chose to don animal and safari prints with confidence in different shades of greens, browns, and black as part of their outfits for the Golden Disc Awards 2021. The different patterns in their belts, jumpsuits and faux fur accentuate the costumes and black boots and masks to complete their ensembles, which are perfect examples of street fashion. If you're looking to recreate similar looks, check out Tiny Spark Shop's cargo pants and Embroidered Crop Top.
7. Tiffany Young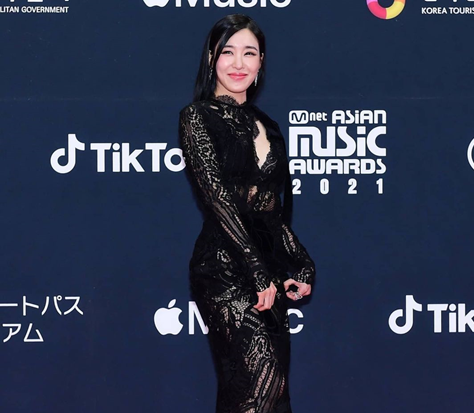 Tiffany, a soloist and member of Girls' Generation, went for a daring and seductive style with a lace outfit. Confidently boasting her charms and with a sparkling smile, all eyes were on her at the venue! Tiffany wasn't afraid to show some skin in an undeniably sexy black dress with see-through lace patterns. The dress also flattered her silhouette. To us, the black dress paired with her stark black hair was nothing short of spectacular on the red carpet.
8. TXT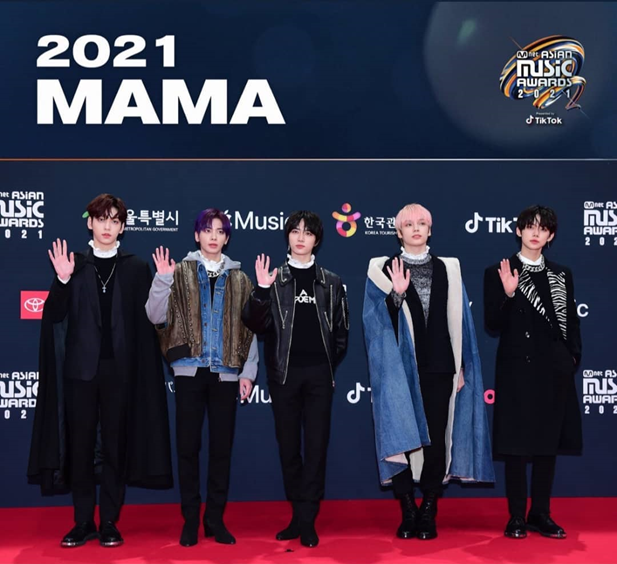 As their full name suggests – Tomorrow X Together, Soobin, Yeonjun, Beomgyu, Taehyun, and HueningKai are constantly looking to the future together in the hopes of creating a better tomorrow. They've continued to claim success since their debut in 2019, making their concept through outstanding storytelling and different musical styles, as well as their apparent enthusiasm for all that they do. The TXT members are seen posing for the camera at the Mnet Asian Music Awards 2021. With their updated spin on the standard red carpet suits and blazers, TXT defined "trendy." HueningKai, for example, wore his long coat slightly off his shoulders, making him look like royalty. Yeonjun wasn't afraid to be more adventurous with leopard print lapels and a chain necklace. Inspired by their outfits, add the Retro Gradient Jacket Coat or the Distressed Beachy Denim Jacket from Tiny Spark Shop to add to your wardrobe.