Clothing Items To Amp Up Your Wardrobe!
New year, new style!
The new year has just started and new styles have already started coming up. Staying up with fashion might seem like a big hassle. To revamp your entire wardrobe is not only time-consuming and expensive, but also unnecessary. By adding in a few new pieces you can easily one-up your style and fashion. Here are eight clothing items that you should consider adding into your wardrobe.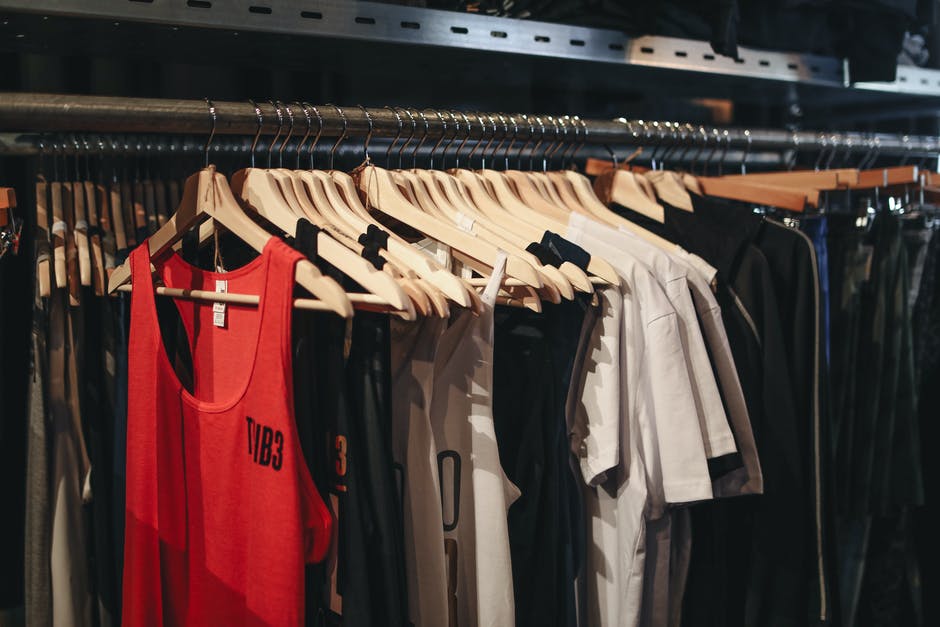 Basic White Tee
One of the most essential clothes that you need to have in your wardrobe is a classic white T-shirt. It is a perfect piece of clothing that can go with practically anything. Want something to highlight your coat or sweater? Wear a plain white t-shirt underneath to shift the focus to the coat or sweater. Want to wear something simple but classy? A white t-shirt should be your go-to. It is also a great option to go for a monochrome look. A white t-shirt is a versatile fashion choice and compliments every outfit you could think of.
Graphic Tees
For those days when you want to grab everyone's attention, graphic t-shirts are a perfect choice. Tiny Spark's Don't Lose Yourself T-shirt is an absolute style statement. The t-shirt has an eye-catching design on the back with quotes. The front side of the t-shirt also has text on it. The quotes are motivational and meant to make the wearer feel more confident and comfortable. The vivid colors of the design really pop off in the t-shirt, which is available in both black and white. The t-shirt is designed keeping street-style in mind and is available in M, L, and XL to make sure you get the baggy look.
Oversized Hoodie
Hoodies are one of the most comfortable loungewear in recent fashion. They have become a popular piece and are highly versatile and adaptable. The Oversized Angel Hoodie is one of the most popular pieces in street fashion. The hoodie has a symmetrical pattern of angel statues on each side. The brown and black combination of color falls easy on the eye. The type being a zipper one allows for flexibility throughout different outfits. It also comes with a fleece lining on the inside, which makes the hoodie warm yet stylish.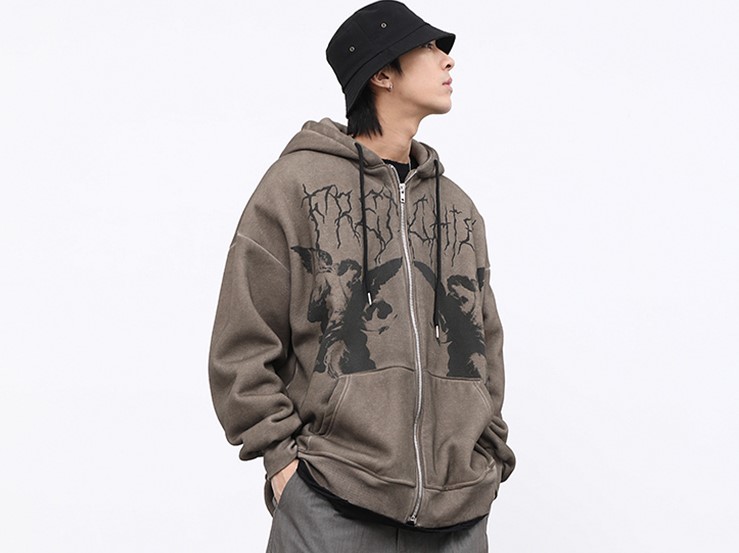 It can be styled in multiple ways. From jeans to shorts, there are endless options to pair the hoodie with. The hoodie is a great fit for boots or sneakers-only look due to its size. It can also be paired up with different types of skirts for a more feminine look. The hoodie goes well with sweatpants, leggings, and denims as well. It can also be worn underneath a leather jacket. Explore more about these looks here.
Sweatshirt
If you are more of a sweats kind of person, then the Skull Sweatshirt is the choice for you. This sweatshirt has a dark aesthetic. The design is inspired by the goth culture and consists of a skull and a candle stand on a backdrop of flowers. The black color and design paired up with the ripped edges at the bottom complete its look. The sweatshirt also fashions an acid-wash effect which gives it a vintage look. The drooping shoulder provides for an oversized look as well adding to the street aesthetic. The item can be worn with almost anything because of its color and design. It is fit for all occasions as well.
Denim Jacket
Denims truly never go out of style. It is a versatile piece of clothing known for its durability and stylishness. The Beachy Denim Jacket is one such example. The jacket features a magnificent ombre effect of blue and purple with black palm tree silhouettes. The upper portion has a design of flying seagulls with lines of distressed pattern on them. The sleeves also feature hints of purple with a ripped threat design that adds to its urban aesthetic. The denim can be styled perfectly with a monotone look or layered with sweatshirts and hoodies. It is one of those pieces that are high in demand, so you better get your hands on it before it runs out!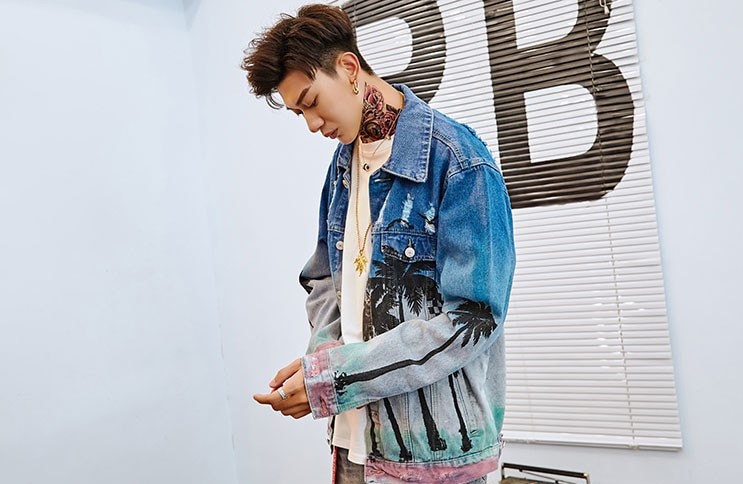 Plain Cotton Tees
While we have already mentioned the advantages of having a white t-shirt, it's important to keep your options open. While colors like black and white are a must, having a variety of t-shirt colors can help you dress better. Tiny Spark's Plain Tees are not only style conscious but also very comfortable. These can be worn on their own as well as be paired with multiple outfits. Be it jackets, sweatshirts, coats, or sweaters, solid t-shirts are perfect for all.
Floral Prints
In case you're someone who is into prints, then the Hibiscus Happiness T-shirt is for you. The t-shirt has a beautiful floral print of the hibiscus flower. But it isn't a simple print, it is accompanied by other graphics as well. The t-shirt is available in white and pale blue. These colors are chosen after much consideration keeping in mind the colors of the design to make sure it stands out. The t-shirt is made of cotton and is airy and comfortable. It can be worn on its own or layers with other pieces.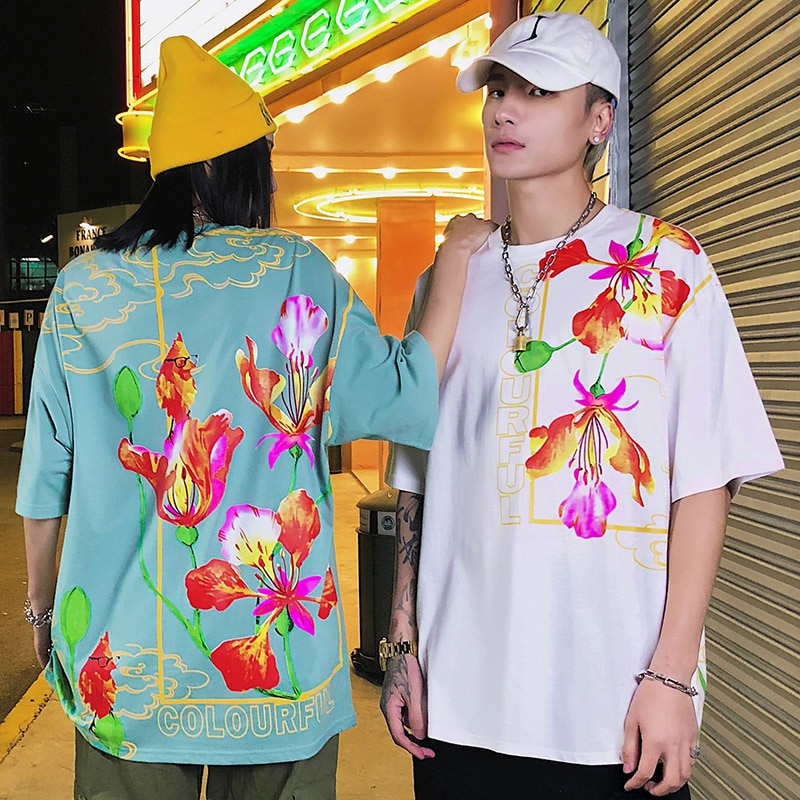 Bomber Jacket
Another item that has been making rounds in urban fashion are bomber jackets. These types of jackets are known for a dapper look and are very stylish. Tiny Spark's Multicolor Bomber Jacket is an outstanding piece. The thing that stands out about the jacket is its color combination. While the color choice might be unusual, when put together they create a harmony that gives a pleasant look. The jacket is available in two color options and is suited for a hip urban look.
Conclusion
New year should see a new freshness in your style. But this doesn't mean you have to start buying everything new. Adding in a few items from this list can help your wardrobe look new!