Drake vs Kanye – Who Wore It Better?
The battle for fashion begins!
After dissing each other for 12 years, the feud between Drake and Kanye finally ended in December of 2021. The fire started when Kanye took Drake off of the track 'All of the Light' allegedly due to the leak of Drake's part that went viral. Then, one thing led to another and the battle was on. The feud led to a constant diss at the two artists and their musical skills. But music isn't the only thing that the two give each other competition in, there's also fashion.
The two artists are known to make headlines for their outfits. They even have their fashion lines; OVO, and Yeezy. It is inevitable to make a comparison between the two. Although, the music feud has ended peacefully. 
But, Who Won The Fashion Feud?
Covering The Bases
T-shirts are a streetwear aesthetic essential. You cannot capture the street aesthetic without some good t-shirts to go with your outfit. From stunning graphics to block color, t-shirts can be the crux of any outfit. In street fashion, t-shirts are known for their versatility. You can easily pair a stylish graphic T-shirt with plain jeans or cargo pants. You can also layer jackets and coats over them. Plain t-shirts, on the other hand, can be worn with almost anything.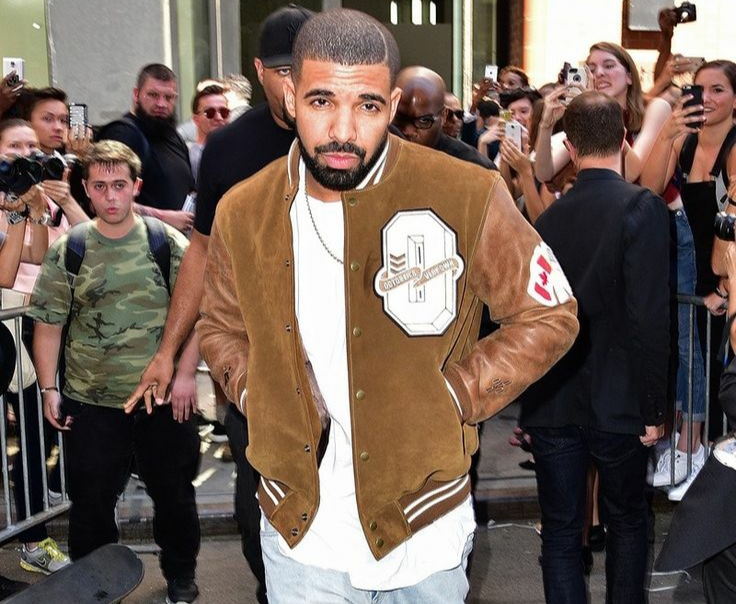 Drake and Kanye are both aware of the significance of t-shirts in streetwear and have a variety of them. The rappers are often seen wearing a 'plain white tee' along with some classic jeans and jackets. Sometimes, they are also seen wearing graphic t-shirts. 
Drake often prefers t-shirts from his fashion brand, OVO. The t-shirts are plain and feature the classic owl logo. It's a simple yet neat look. Some of his popular and iconic graphic t-shirts include the Jaden Smith Face, Legends Never Die T-shirt, Nirvana Merch T-shirt, and so on.
Kanye, on the other hand, wears block color T-shirts of beige, white, black, gray, etc over a pair of plain jeans and boots or sneakers. A minimalist king right there. On the occasions Kanye does wear graphic t-shirts, it mostly consists of t-shirts of other musical artists or something meta like his own picture!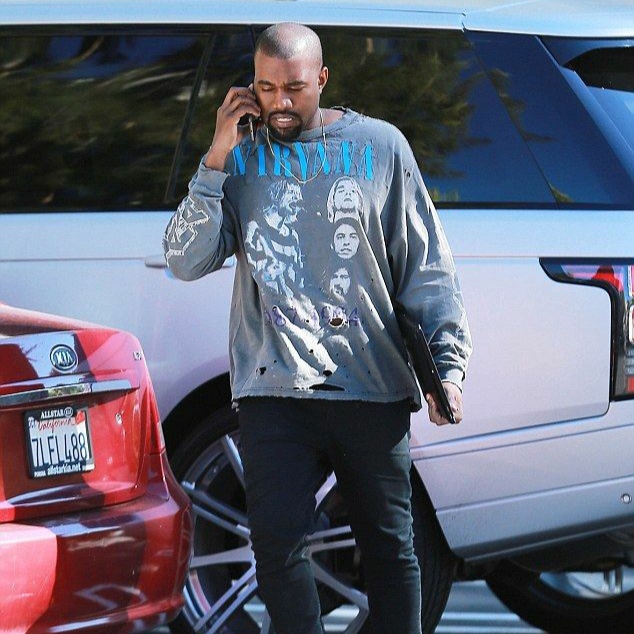 King Of The Hood?
Another absolute must-have is hoodies or sweatshirts. In recent years, hoodies and sweatshirts have become a part of everyone's wardrobe thanks to the work-from-home culture. But what separates a street-style hoodie from the others are the unique graphic designs and patterns. Streetwear hoodies usually have a more rugged look and connect it to their original aesthetic. In the case of plain hoodies, they are typically accompanied by an iconic logo like Drake's OVO Owl.
Drake stays loyal to his brand and often wears different versions of his OVO logo. In fact, Drake usually either wears plain hoodies or goes for ones with statement illustrations. He's rarely seen wearing graphic hoodies. But when he is they are always as showstopping as Ye Must Be Born Again.
Kanye is not far behind. To maintain his casually cool look Kanye pairs up his hoodies with puffer jackets and coats. Kanye is also seen wearing unforgettable graphic hoodies like the Rick and Morty Hoodie featuring designs from the show's illustrator. He often wears his own Yeezy Merch as well. For instance, the Wyoming Hoodie, the Velour Yeezy, and so on.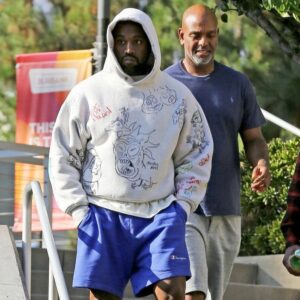 From Top To Bottom
In fashion, what you put on top should match your bottoms to create a perfect look. The street aesthetic has a wide variety of bottom wear that you can choose from. Be it cargo pants, ripped jeans, joggers, or shorts, you can choose whatever you like. Each of these clothing options has its own perks that might attract you to them. But one thing is for use, they are all super comfy and stylish.
Take it from the rappers themselves. Both Drake and Kanye are seen wearing different bottoms on different occasions. Sometimes is a pair of shorts with a lightweight hoodie for the breezy weather, sometimes it is a matching sweats to go for a casual lunch with friends, or sometimes it is just a plain t-shirt and jeans to keep things on the down-low. The rappers are also seen wearing cargo pants with a neat layering of jackets and t-shirts.
One For The Sneaker Heads!
Since streetwear is all about comfort and style, sneakers are the preferred option for footwear. In fact, the sneaker culture has grown so much that now, sneakers have turned into collectibles. Regardless, sneakers are undeniably versatile and comfortable. They can be worn with anything including styles other than streetwear.
Just like everything else, Drake and Kanye's sneaker game is as strong as their album sales. The rappers are seen wearing a wide range of designer sneakers that any sneaker-head would have their heart on. Of course, the rappers occasionally switch to other footwear as well. Who can forget Kanye's classic brown boots?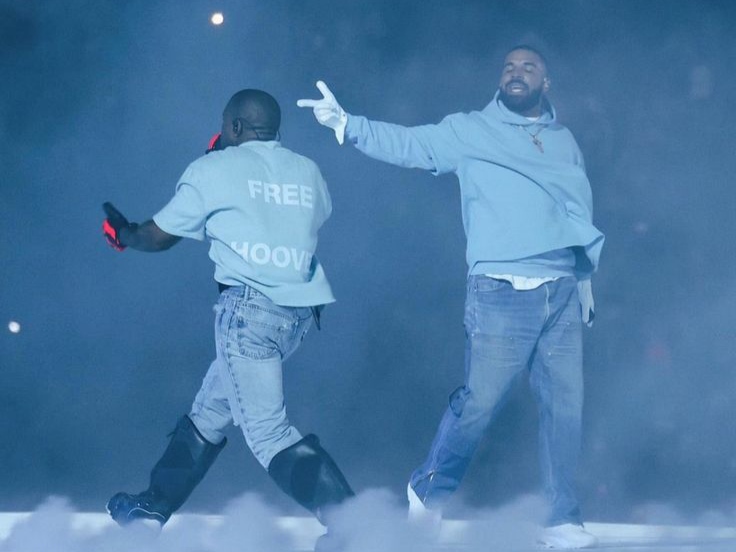 Both the rappers have their own style of dressing up, much like their music. It is hard for us to say who dresses better.
But Who Do You Think Won This Fashion Battle?
Is it Ye or the Certified Lover Boy?